Customer

Companhia de Estágios

Year

2022

Team

Jogajunto

Service

Digital Experiences
Together,
we restructured the website to keep up with the company's growth
The old Companhia de Estágios website, being over 7 years old, not only exhibited structural issues regarding performance and accessibility but also didn't align with the company's new brand and visual identity.
The challenge was to create a new website with improved usability and accessibility while avoiding any negative impact on search engine rankings, such as Google, due to the redesign.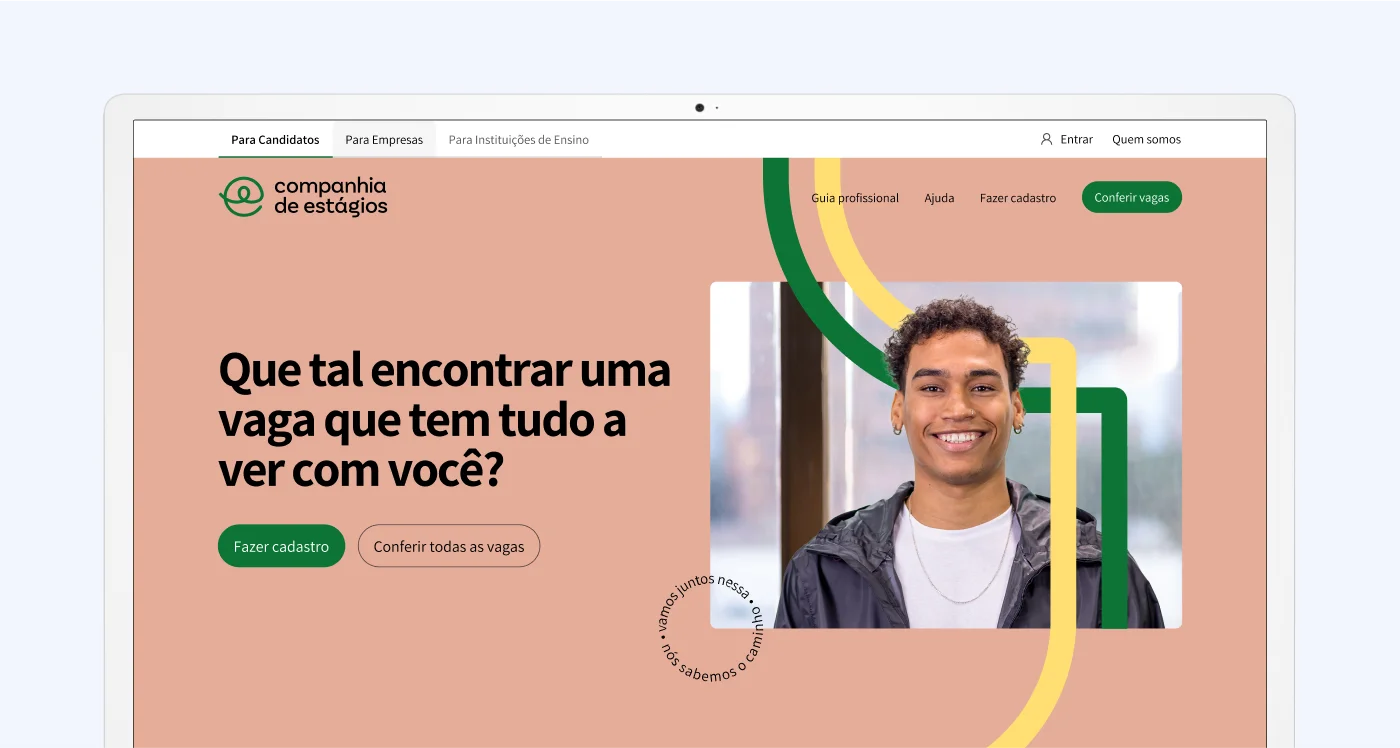 Solution
Together, we worked to ensure this significant project had consistency in deliveries and yielded good results.
We thoroughly examined the pains, objectives, industry, and target audience of the Companhia de Estágios.
We assessed that the majority of website traffic comes from candidates using simpler mobile phones, often with access via 3G and 4G connections. Therefore, we employed the Progressive Enhancement strategy (which allows all users to access basic page content regardless of browser or internet link) and designed the site to load quickly, considering a good user experience and minimal data usage.
We embraced Design System and Atomic Design practices (creating an interconnected design system). This ensured consistent production even when different professionals were involved in the project.
We determined that the best approach for a project of this scale would be to follow the principles of agile software development. Thus, we guaranteed value deliveries for the client throughout the project, not just at its completion.
Together,
we achieved sensational numbers
We reduced the website's loading time by 45%. Now, the site loads in less than 3 seconds (on average, 2.1 seconds).
We ensured that the site reached the Google Core Web Vitals goals, which are the metrics that evaluate the user experience on a site and help with ranking.
By employing the Progressive Enhancement strategy, we designed the site to load swiftly and consume less data from the user's plan.
These improvements contribute to a superior user experience for both students and HR professionals in companies and educational institutions, ultimately increasing customer satisfaction and loyalty.
Testimonial
Of all the agencies I've worked with, Jogajunto has demonstrated mastery in all aspects involving web development, brought solutions and avoided problems."

Andressa Filgueiras
Marketing Manager at Companhia de Estágios